Consumers, Providers, and Mentorship
The Public Authority is always ready to assist individuals approved for IHSS services. Our Provider registry, Consumer training, and Mentorship services help Consumers establish and navigate their care every step of the way.… Learn More
Mentors are a valued part of the team, offering additional support and guidance to Consumers who are new to IHSS or request additional support in finding a Provider that works for them.… Learn More
Providers play a critical role in San Francisco's workforce. The Public Authority assists with job placement and skills training to ensure all IHSS Providers are prepared for their work, and have the support they need.… Learn More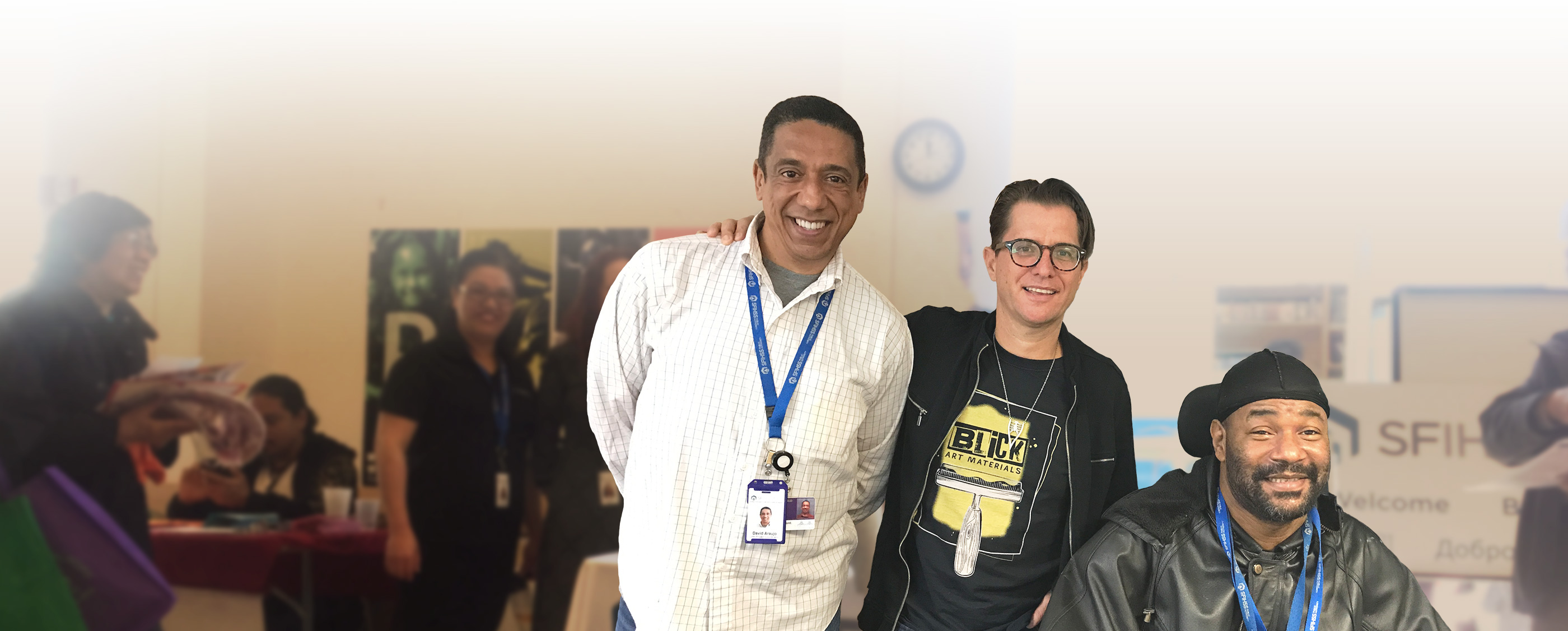 What is IHSS?
In-Home Supportive Services (IHSS) helps seniors and people with disabilities safely remain in their own homes with support from a Provider who assists with personal care and routine household tasks. IHSS encourages independence and self-reliance where possible, and is a cost-effective alternative to institutional care.
22,000

IHSS Consumers
in San Francisco

41%

Consumers
Live Alone

20,000

IHSS Providers
in San Francisco

17%

Providers Serve More
Than One Consumer
Choice, Community, and Cost
Choice
Everyone should be able to choose how they receive personal care. IHSS empowers people to hire their provider, manage their schedule for care, and advocate for their own needs.
Photo of three people sitting together and discussing choices.
Community
IHSS allows Consumers to "age in place," living in their own homes and communities – which has been proven to lead to better health and overall wellbeing.
Photo of three guys sitting together at the community bus stop.
Cost
The cost of providing IHSS care is significantly less than institutional care. The program saves the state and families money in overall healthcare costs and ensures Providers can earn a living.
Photo of a calculator and stethoscope, to represent the cost of healthcare.
The PA's Role in IHSS Continuum
The San Francisco IHSS Public Authority (Public Authority / PA) connects low income seniors and people with disabilities to qualified IHSS providers, so they may live healthier, happier and safer lives at home and engaged in the community.
The San Francisco IHSS Public Authority provides seven major services:
Registry
On-Call Program
Employer-of-Record for the IP Workforce
Health & Dental Insurance for IP Workforce
Education, Outreach, and Advocacy
Mentorship Program
Criminal Background Checks for the IP Workforce
1,200 Consumers Served
Each Year
250 Active Registry
Providers
20% Consumers Receive
Mentorship Assistance
Thriving in Place
The Mission of Thriving in Place is to strengthen, sustain and advocate for the work of the San Francisco In-Home Supportive Services Public Authority, ensuring low-income older adults and people with disabilities are able to remain and thrive at home and in their communities.
Make a Donation
Learn More About TiP
@SFIHSSPA Twitter Feed